Use the Destiny Read app
Destiny Read gives you an easy way to access and download checked-out Follett eBooks and Audiobooks. It is available for iOS and Android™ devices.
Note: If you use Destiny v18.0 or later, consider using the Destiny Discover app, which lets you search, check out and access Follett eBooks and Audiobooks offline.
Note to MyDestiny users: Destiny Read app functionality is not currently available for titles accessed via MyDestiny.
Log in
The first time you use Destiny Read on a device, you need to log in:
Use the Location drop-down to select your state or province.
In the School field, type the first few letters of your school's name. When your school appears in the suggestions, select it.


Note: Steps 1 and 2 only need to be completed the first time you log in, or if you need to select a different school.

Tap Log In.
On the next screen, type your Username and Password, and then tap Submit.
Download an eBook or Audiobook
Once you log in, you will see a list of Follett eBooks and Audiobooks checked out to you.
Note: To find and check out Follett eBooks and Audiobooks, go to Destiny Discover, which can be accessed from a browser or a link or shortcut provided by your librarian.
To download a checked-out title, tap Download.


To download all checked-out Follett eBooks or Audiobooks at once, tap , and then select Download All eBooks or Download All Audiobooks.
Read or play offline
To start reading, tap Open or Play.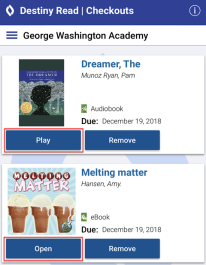 Remove a title from your device
You can remove a downloaded title by tapping Remove.
Return
Follett eBooks and Audiobooks are returned automatically at the end of the loan period.
To return a title early, tap Return.

Note: This option is only available for titles that are not currently downloaded.
To return all Follett eBooks or Audiobooks at once, tap, and then select Return All eBooks or Return All Audiobooks.